Wandsworth Council are asking everyone to do what they can to help stop the spread of Coronavirus so we can avoid any further restrictions.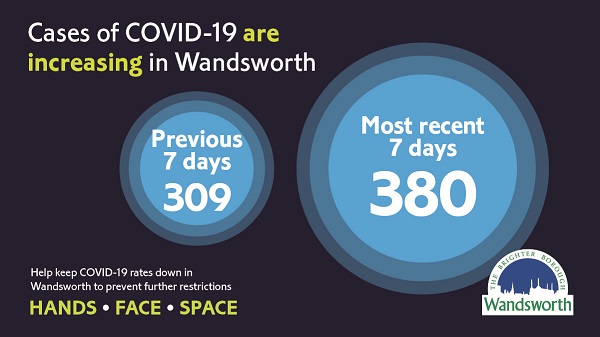 We all need to play our part by following social distancing rules, the rule of six, getting tested regularly and encouraging your social contacts to do the same.
Please continue to wash your hands, wear a face covering, make space, and meet in fresh air. If you have to meet indoors, remember to keep the area well ventilated. Please take the vaccine as soon as you are offered it.
If you are attending events or meeting up to watch the Euro 2021 matches, the rules still apply. Everyone needs to play a part in helping to stop the number of cases rising.     
If you are meeting other people, take a test first, follow all social distancing rules and as soon as you are offered the vaccine, take it. 
Find out more about how and where to get tested
Get vaccinated if you are eligible. The vaccine is now being offered to everyone over the age of 18yrs. If you have not yet been contacted by your GP, 
contact the NHS
 or call 119. There are also walk-in vaccination clinics taking place across south west London, information here: 
Walk-in vaccination clinics - South West London CCG (swlondonccg.nhs.uk)