The favourite design chosen by local families and young children for a new look toddlers and junior playground in Battersea Park has been unveiled.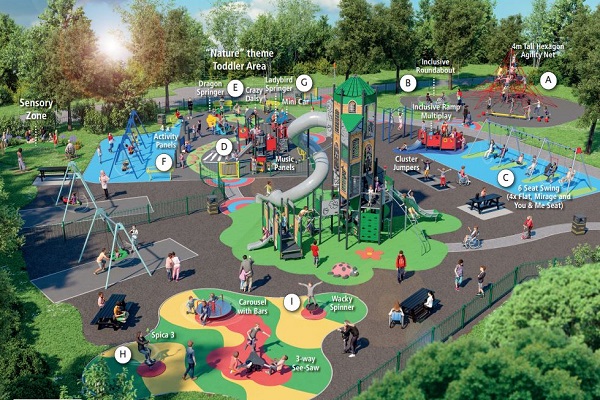 How the playground will look
The £254,000 refurbishment brings the council's investment in childrens' play areas across Wandsworth to more than £1m over the past three years.
Work is due to get underway at the beginning of September on creating the park's new look playground which was selected by parents and children in a public consultation earlier this year.
Families had three exciting blueprints to choose from and the final result was so close that the most popular elements of the two most favoured schemes have been incorporated into the final design.
Ninety per cent of those people who took part in the consultation lived close to Battersea Park.
The new equipment has been designed to be appropriate for the age ranges of the children who use the playground, which offers a section for toddlers and children under the age of eight and a separate junior section for slightly older children. The adjacent and separate adventure playground is designed for children aged eight and upwards.
Parks and open spaces spokesman Cllr Steffi Sutters said: "I'm thrilled that local families played such a pivotal role in helping to choose the final design. They had some really exciting choices to consider and because the final result was so close between the two most popular options we were able to include the best elements from both.
"Once the refurbishment work has been completed I think families with young children will absolutely love their new-look playground."
Over the past three years nearly £8m has been spent on local initiatives including schemes to support safer communities, employment opportunities for young people, better pavements and improved parks and playgrounds. These have been paid for using the 
Wandsworth Local Fund (WLF
) which comprises money the council has levied on developers to help pay for community and local neighbourhood infrastructure improvements across the borough.
The project is due to begin on September 6 and is likely to take about eight weeks, weather permitting.
Families can find out the locations of other nearby play areas they can use during that time by visiting 
https://enablelc.org/parks-about-us/bat ... rbishment/
For more information email 
parks@enablelc.org
 or call 020 3959 0060