A community and council planting day to create new, pollinator-friendly "Lambeth Bee Roads" transforms turf into wildflower meadows by the side of the busy A204.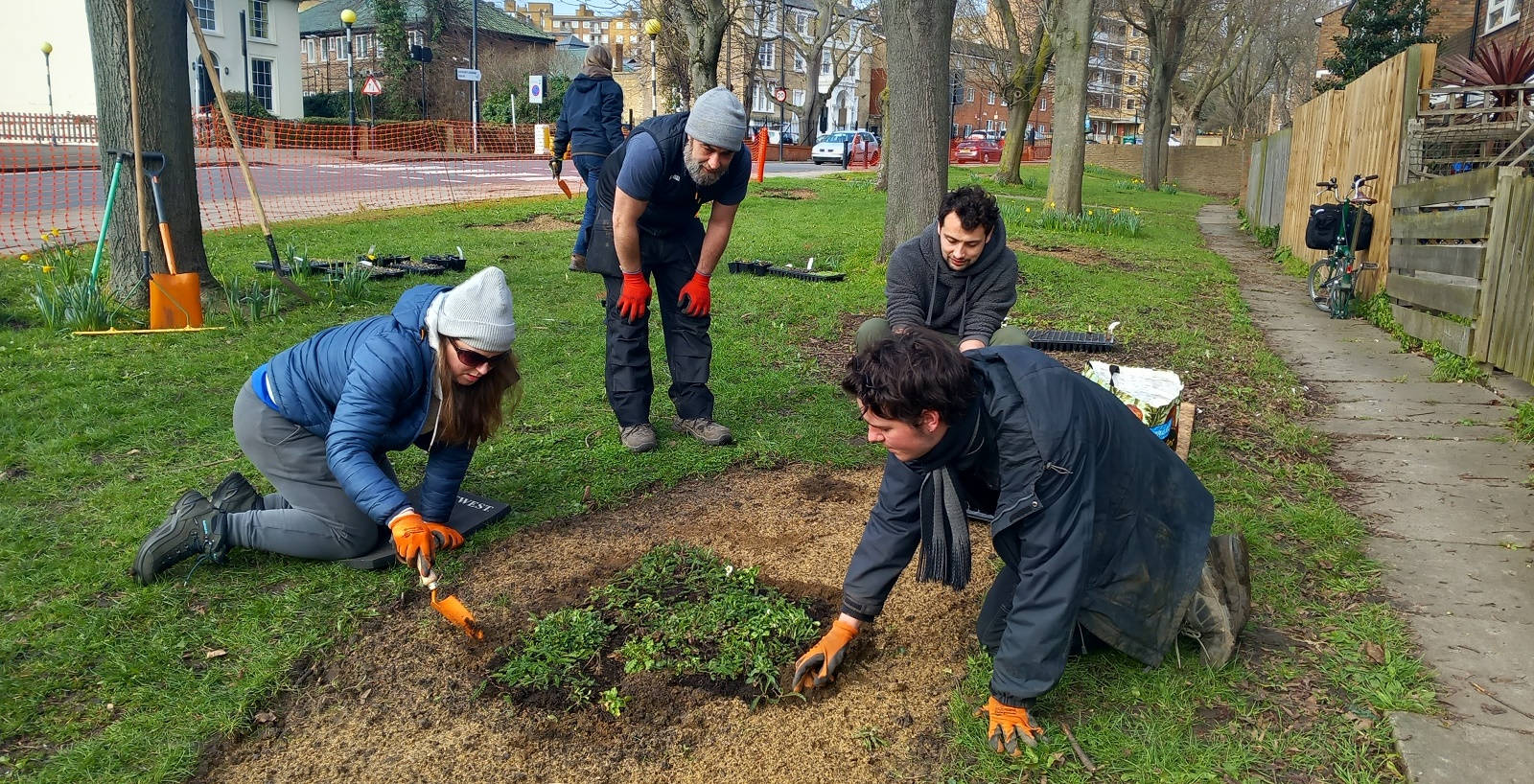 Lambeth Bee Roads is Lambeth Council's plan to work with local communities and rewild an extensive network of roadsides, by changing amenity grass areas into wildflower meadows.
A planting day on Saturday 11 March saw Lambeth councillors working with Deronda Estate Tenants and Residents Association (TRA) to create a "Bee Road" by the side of the busy A204. They planted wildflowers – different species to suit sunny and shady areas – to attract bees and other pollinators as part of the borough-wide Lambeth Bee Roads scheme, supported with funding from the Mayor of London.
Cllr Rezina Chowdhury, Cabinet Member for Sustainable Lambeth and Clean Air, an active part of the Deronda planting day, said: "In the UK, there are hundreds of species of bee, as well as thousands of other pollinators, such as butterflies, moths, bats and birds. However, 40% of them are at risk of becoming extinct. This is why planting days like this are so important, improving wildlife habitats and linking up our network of green spaces. Alongside our residents, we share our commitment to tackling the climate crisis."
Bee Roads planting programme
The Bee Roads project works with community volunteers to improve connecting roadside sites for people and wildlife using a range of methods. These include seeding new wildflower meadows, planting into grass verges, planting bulbs and creating new wildlife habitat including hedges.
What's been done so far …  
- Residents at Myatt's Field South Estate planted wildflower plug plants into verges and new wildlife hedging.
- 52 square metres of shade-tolerant wildflower turf laid at Deronda and Myatt's Field South estates
- Pupils at La Retraite enjoyed a South London Botanical Institute Bee Roads workshop about pollinators and wildflowers, then worked with the council to seed verges outside the school on Atkins Road.
Next projects
- Wildflower planting at Agnes Riley Gardens on 18 March.
- Weir Estate Bee Road on 1 April.
- St Matthew's Estate cornfield annuals planting on 16 April.
Plus, lots of events throughout the summer to learn about wildflowers and the pollinators they attract. 
To hear more about these events, contact 
parks@lambeth.gov.uk
 to be added to the Bee Roads newsletter list.
The project will trial (and keep records of) a range of different planting methods to see what works best to improve different environments.
"Bee" part of a better environment
Find out what you can do at home to attract pollinators and link up Lambeth's green spaces on the 
beeroads website
.
Share photos of the flowers and pollinators you spot in roadside verges and green spaces in Lambeth this year with hashtag #LambethBeeRoads so we can see what is in flower.
More information
- To volunteer for improving your local environment by changing roadsides into wildflower meadows, email 
parks@lambeth.gov.uk
, with 'Lambeth Bee Roads' in the title
- This project was inspired by residents' recommendations in Lambeth's Climate Assembly, our 
Pollinator Action Plan
 and Green Infrastructure Strategy, and external influencers including 
Plantlife
 Highway Verges campaign and from the Mayor of London on Reimagining Rainwater.
- A £440k grant from the Mayor of London's office comes from the 
Green and Resilient Spaces Fund
, investing in projects that create and improve spaces enhancing our resilience to climate change. Thames Water are an active partner in plans to create self-sustaining rain gardens that improve drainage